English
At Headfield Junior School we aim to promote the highest standards of language and literacy by equipping pupils with a strong command of the spoken and written word, and to develop their love of literature through widespread reading for enjoyment. Our curriculum is rich in opportunities to develop reading and writing skills and these areas are at the heart of all we do. Click below to read our Literacy Policy which details teaching and learning at Headfield in detail.
Photo - A selection of fiction books studied in depth in classes.
READING AT HOME
Reading at Home is an integral part of our curriculum. Children are expected to read at home with an adult or older sibling at least three times a week, but ideally every day. In school we provide the opportunity for children to read their chosen text for 15 minutes daily during ERIC (Everybody Reading In Class) time as well as before school and every year group offers a lunch time reading club. Developing a love of reading is our highest priority as being literate opens the doors so so many learning opportunities.
Click here for a list of useful questions to ask your child whilst reading.
Click here for an Urdu version.
Click here for a Gujerati version.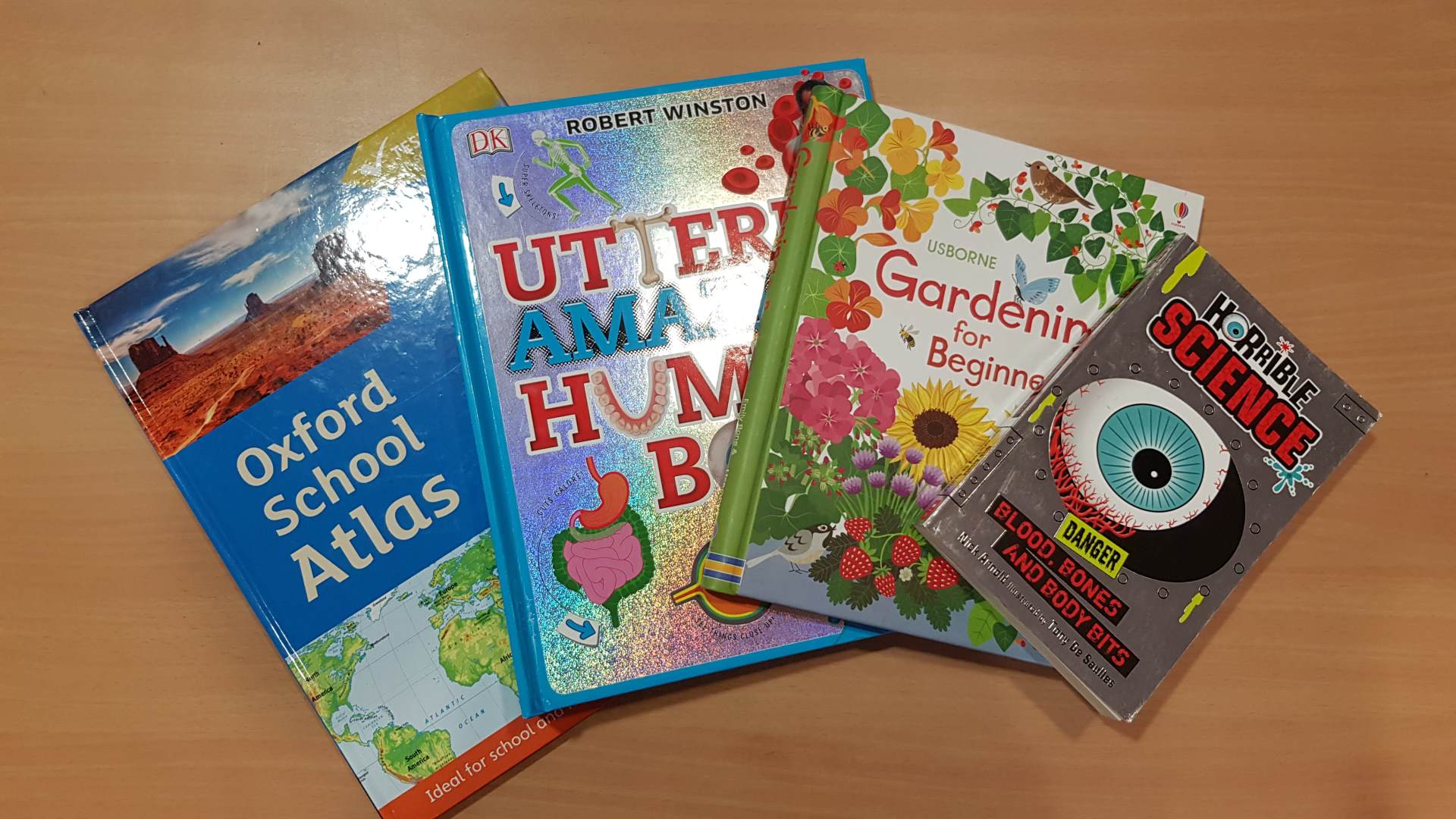 Photo - A selection of non-fiction books studied in depth in classes.
Photo - Headfield Library
Photo - Headfield Reading Lounge
What is Accelerated Reader?
Accelerated Reader is based around a computer program that helps to develop children's independent reading. It works in quite a simple way; a child picks a book at their own level, and when finished takes a short quiz of 5-10 questions on the computer. The quiz is a new feature of how we change books at school, but is a really important addition. If the child can answer the quiz questions about what they have read they are given a points value dependent on how many questions they answer correctly, which then tells the child's teacher that they have fully understood the content of the book. That point value is added to a child's individual profile and the class teacher tracks each child's progress. This is how children move up through the programme.
How does a child know which books to choose in Accelerated Reader?
Each child will be able to select a book from our library that falls within their Z.P.D (zone of proximal development). This reading band guides children towards choosing books at an appropriate reading level that are challenging yet not frustrating. The aim is for children to pass the quiz and be successful. In time, children will move up reading bands and read more challenging texts.
All of our books in school have been labelled and put into colour bands that will further help guide children in choosing a book. One of the best parts about using Accelerated Reader is that children can choose their own books to read, rather than having one assigned to them. This makes reading a much more enjoyable experience as children can choose books that are interesting to them. When your child brings home their reading book you will notice a white label on the inside cover. This states the reading level (ZPD) of the book, the quiz number and the number of points available for reading that book.
How can parents and carers support their children at home?
As a part of our reading programme we ask children to read at home to an adult for 20 minutes a day, fill in their reading diary and have it signed by a parent. According to Renaissance Learning's research (who run Accelerated Reader), children who read at least 20 minutes a day with a 90% comprehension success rate on the quizzes see the greatest gains. We would greatly appreciate your support in helping your child to do this, as ultimately the reading practise that your child gets outside of school contributes greatly towards them becoming a confident, successful reader.
It is essential that children brings their reading book back to school every day as they also read their books during reading time in class every day. Please support your child in this new routine, putting their book back in their school bag as soon as they have finished reading with you. We can't stress enough the importance of it!
If you have any questions about Accelerated Reader, please do ask your child's class teacher who will be happy to help.
WRITING EXPECTATIONS
The National Curriculum outlines the writing objectives into lower keystage 2 (years 3 and 4) and upper keystage 2 (years 5 and 6). At Headfield we break these objectives down further into Y3, Y4, Y5 and Y6 to ensure progression across school and give children the best opportunity to reach the highest standards by the end of Y6. Click below for the end of year writing expectations for each year group:
What is SPaG?
Spelling, Punctuation and Grammar (SPaG)
The 2014 curriculum for English has a huge emphasis on grammar and spelling.
Click here for an explanation of the SPaG (Spellings, punctuation and grammar) terms in the National Curriculum.
Curriculum Spelling List Years 5 & 6
Curriculum Spelling List Years 3 & 4
Handwriting
In school we use the Penpals Handwriting scheme. There is a Penpals app that can be downloaded should you wish to practise handwriting at home. For more information about the Penpals handwriting scheme click here.
Additional Interventions in English
At times through each child's educational journey, teachers offer additional support to children of all ability levels to allow them to work in small groups or on a 1 to 1 basis to have focused learning time to embed particular skills which may be gaps in learning or an opportunity to push children to reach their highest potential. These are a selection of English based interventions we off:
Lexonik - a highly successful 6 week reading and spelling intervention aimed at increasing children's reading age
Lexonik Leap - a fast impacting phonics based intervention shared with children who are new to English or require additional sound work.
SULP - Social Use of Language Programme where children learn about language associated with different contexts.
Writing booster groups
1-1 writing support targeting gaps in learning and highlighting areas for children to focus on
Small group reading comprehension often focusing on a particular skill such as inference or vocabulary development
1-1 reading support
SALT - Speech and Language Therapy specifically designed by speech and language specialists to develop children's understanding of common words in the English language and support with pronunciation.
Have a look at different learning activities that you could try at home!
Click on the images to take you to these websites.